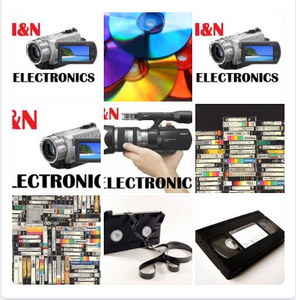 8mm video8 Hi8 tape transfer to DVD's Dics
Regular price $20.00 Sale
I & N electronics is a repair facility, our expertise in repairing and selling Sony 8mm, Hi8, digital 8 and mini DV, DVcam, high definition & VHS/SVHS VCR, camcorder or video Walkman.
This listing for transferring one tape to DVD's disc, we do not watch tape footage that means we do not edit, whatever is in your tape will be in DVD's disc.

One hour of tape transfer is $15.00 plus shipping, DVD's disc and DVD's casing are included in the cost of tape transfer.

Minimum charge is $15.00 per tape if there is less than one hour footage in the tape.
Each disc can hold up to two hours of video footage.

One disc per tape.
You can ship as many tapes as you have, you pay one return shipping for all.
$5.00 added for return shipping of one tape transfer. 
 Ask question if you need more info.