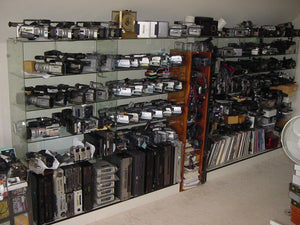 Camcorder repair service
Repair             Repair              Repair
Please familiarize yourself with the nature of this listing - I offer first-rate service/repair.
 Here how things work:
1- Send me an email and indicate the model # of your Camcorder, VCR or Video Walkman, describe as much detail as you can; the problem(s) you are encountering.
2- I will respond to your email and provide you with a service estimate which would be parts and labor, you are responsible for shipping both way.

3- Generally speaking repairs are completed within 14 working days.
4- Payment is due upon completion of repairs.

5- 99% of the time my repair and/or service do not exceed my initial estimate/quote.
6 - I'm not in the 'monkey business' - you can expect and will receive an honest assessment - it's as simple as that!  Read my feedback if you are at all concerned.


The  most frequently asked question I get is;  "Why would I ship my equipment to you?"  Well, the answer is rather straight-forward:  I am the only technician on Planet Earth with the experience and capability of providing you with consistently 'top-shelf' (top-notch) (first-grade) (Job-One) results in what can only be classified as an exceptionally demanding repair environment.  Modern, micro-electronic repair has a formidable reputation in that department!   Feed-backs paint an accurate picture and I would suggest mine speak loud to my Standard of Repair and Expertise.  I encourage you to review them and to my customers: I encourage you to leave one - as per normal eBay practice.

I've had lots and lots of happy customers - why?  Simple -
they receive competent and consistent and consistently competent customer-service.   I'm a strong believer in "my best customer is a happy customer."  You will share in this sentiment.

Repeat customers of mine include: Law enforcement, private investigation sector, news agencies, the motion-picture industry and a wide gamut of "post production" (houses) facilities.