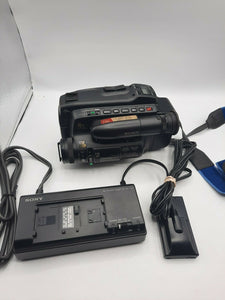 Sony 8mm video8 Hi8 digital8 rewinder
Regular price $165.85 Sale
Free shipping.
This listing is for completely overhauled heavy duty Sony 8mm camcorder that I am selling it as a rewinder.
Completely overhauled with far better parts Sony originally installed, all surface mount capacitors were replaced with radial type so it last far longer.

This camcorder has has heavy duty mechanical section like Sony EV-C100 and EV-S2000.
The reason I am selling it as a rewinder is that there is bad audio board and that part no longer available.
It comes with Sony AC/DC adapter so you can plug it to AC outlet. 
Payment must be made through PayPal, you do not need to have a PayPal account, just use your credit card to pay for your purchase.
Also can not ship without email address & phone #.