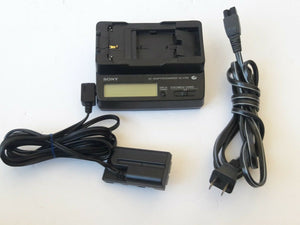 Sony AC-V700 AC adapter with DK-45
Regular price $149.85 Sale
Free shipping.
This listing is for absolutely perfect working condition Sony AC-V700 AC Adapter/charger with DK-415 connecting adapter


This complete set is for almost all Sony camcorders and video walkman except Sony DCR-HC series and HDR-HC series.
It is for most Sony Camcorders like DCR-TRV103, DCR-TRV110, DCR-TRV120, DCR-TRV310, DCR-TRV315, DCR-TRV520, DCR-TRV720, DCR-TRV820.
Also, for quite a number of Sony CCD-TRV series like CCD-TRV49, CCD-TRV58, CCD-TRV68 .
Also Fits Sony GV-200, GV-D300, GV-D800, GV-D900 and DSR-V10 , GV-A500, GV-F700 , EVO-250 video Walkman.
Here is some more model # of Sony that NP-F990 fits.
CCD-TR67 
CCD-TR76 
CCD-TR87 
CCD-TR516, TR555 
CCD-TR716 
CCD-TR818 
CCD-TR910, TR917, TR930, TR940 
CCD-TR3000 
CCD-TR3300 
CCD-TRV15 
CCD-TRV25 
CCD-TRV36, TRV37 
CCD-TRV41, TRV43, TRV46 
CCD-TRV51, TRV57, TRV58 
CCD-TRV62, TRV65, TRV66, TRV67, TRV68 
CCD-TRV72, TRV75 
CCD-TRV81, TRV82, TRV85, TRV87, TRV88 
CCD-TRV90, TRV91, TRV93, TRV95, TRV98, TRV99 
CCD-TRV101 
CCD-TRV215 
CCD-TRV615 
CCD-TRV715 
CCD-TRV815 
DCR-SC100 
DCR-TR7000 
DCR-TRV7 
DCR-TRV9 
DCR-TRV110, TRV120, TRV130 
DCR-TRV210 
DCR-TRV310, TRV315, TRV320 
DCR-TRV510, TRV520, TRV525 
DCR-TRV720 
DCR-TRV820 
DCR-TRV900 
DCR-VX2000 
DCR-VX2100 
FDR-AX1 
GV-D200 
GV-D700 
HVL-LBPB 
HDR-AX2000 
HDR-FX1 
HDR-FX7 
HDR-FX1000 
HVR-HD1000U 
HVR-V1U 
HVR-Z1U 
HVR-Z5U 
HVR-Z7U 
HXR-MC2000U 
HXR-NX5 
NEX-EA50UH 
NEX-FS100U 
NEX-FS700U