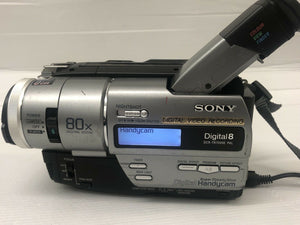 Sony DCR-TR7100e digital8 pal system camcorder plays 8mm Hi8 digital8 in Pal & NTSC
Regular price $645.00 Sale
Why buy From me:- I am a technician and my expertise are in repairing and selling Sony 8mm , Hi8, digital 8 and mini DV, DVcam, high definition & VHS/SVHS VCR , camcorder or video Walkman
This listing is for refurbished Sony DCR-TR7100e digital8 pal system stereo camcorder that plays 8mm, Hi8 analog tapes as well as digital8 in pal & NTSC, it comes with original Sony AC adapter , RCA  A/V RCA cable, Svideo cable .
Sony DCR-TR7100e has following input/output.
1-  RCA type A/V jack.
2- Svideo jack.
3- ilink / DV port.
You pay through PayPal which is the most secure on line website.
Payment must be made through PayPal, you do not need to have a PayPal account, just use your credit card to pay for your purchase