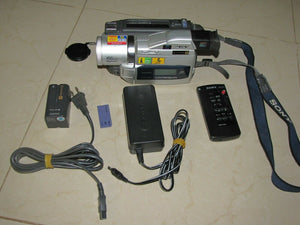 Sony DCR-TRV720 digital8 stereo NTSC camcorder plays 8mm Hi8 digital8
Regular price $465.85 Sale
Free shipping.
Why buy from me: - I am a technician and my expertise are in repairing and selling Sony 8mm, Hi8, digital 8 and mini DV, DVcam, high definition & VHS/SVHS VCR, camcorder or video Walkman
This listing is for perfect working condition Sony DCR-TRV720 high end digital8 that also playback 8m & Hi8 analog tapes, it comes with original Sony AC adapter, RCA A/V RCA cable, Svideo cable.
Sony DCR-TRV720 is exact copy of Sony GV-D800 internally, what the camcorder has extra is the lens assembly.
Sony DCR-TRV720 has following input/output.
1-  A/V jack.
2- Svideo jack.
3- ilink / DV port.
4- external mic. jack
5- 4" LCD