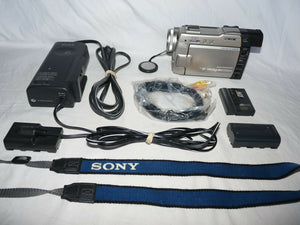 Sony DCR-TRV9e pal system stereo miniDV camcorder
Regular price $395.85 Sale
Free shipping.
Why buy from me: - I am a technician and my expertise are in repairing and selling Sony 8mm , Hi8, digital 8 and mini DV, DVcam, high definition & VHS/SVHS VCR , camcorder or video Walkman
This listing is for Sony DCR-TRV9e pal system stereo miniDV camcorder.
Pal video system is for Middle eastern, Asia & European system. 
It is in perfect working condition, it comes with Sony AC adapter , RCA  A/V RCA cable, Svideo cable .
Sony DCR-TRV9e does not playback high definition miniDV tapes.
Sony DCR-TRV9e has following input/output.
1-  A/V jack.
2- Svideo jack.
3- ilink / DV port.
4- external mic. jack
This Camcorder is like new but unfortunately has a bad CCD prism so it is strictly for those who wants to transfer their miniDV tapes to their computer or another format and not for recording new footage.
Also make sure to add your phone # and email address .