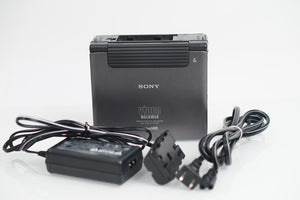 sony GV-A500 Hi8 NTSC video walkkman plays 8mm Hi8 analog tapes
Regular price $585.00 Sale
Why buy From me:- I am a technician and my expertise are in repairing and selling Sony 8mm , Hi8, digital 8 and mini DV camcorder or VCR, I earn my feedback on eBay or Amazon not by selling records, CD's or DVDs but selling 8mm, HI8, digital8 , mini DV , HD and VHS/SVHS video cassette recorder player, camcorder & video Walkman .
This listing is for perfect working condition & cosmetically very nice Sony GV-A500 NTSC Hi8 video Walkman with built in 4" LCD, it plays 8mm & Hi8 analog tapes, it was completely overhauled, it comes with original Sony AC adapter , RCA  A/V RCA cable, Svideo cable ,  it is complete and you do not need to purchase any thing to operate this video Walkman .
You need analog to digital converter like Elgato, Dazzle or Vidbox if you want to connect it to a computer.
Sony GV-A500 has following input/output.
1- RCA stereo A/V jack.
2- Svideo jack.
I only accept payment through PayPal, you do not need to have a PayPal account, just use your credit card to pay for your purchase.
Please add your email address & phone # on the check out as can not ship without them.