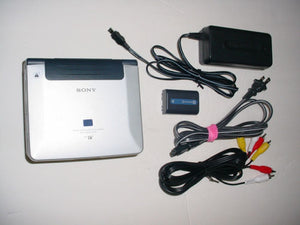 sony GV-D1000e pal system miniDV stereo video walkman
Regular price $675.00 Sale
Why buy From me:- I am a technician and my expertise are in repairing and selling Sony 8mm , Hi8, digital 8 and mini DV camcorder or VCR
This listing is for perfect working condition Sony GV-D1000e pal system miniDV video Walkman that also playback NTSC miniDV tapes, it comes with original Sony AC adapter , RCA  A/V RCA cable, Svideo cable all in original box ,  it is complete and you do not need to purchase anything to operate this video Walkman .
Cosmetically in very nice condition.
This video Walkman does not play high definition miniDV tapes.
All tapes recorded with sony HVR or HDR camcorders are high definition.
Sony GV-D1000e has following input/output.
1- RCA A/V jack.
2- Svideo jack.
3- ilink / DV port.
4- USB port.
5 - Audio video input/ ID-2 , this jack can be use as analog to digital converter.