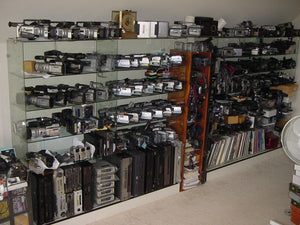 SONY GV-D800 REPAIR service
                                                                Repair              Repair            Repair

Please familiarize yourself with the nature of this listing - I offer first-rate service/repair.
 Here how things work:
1- Send me an email and indicate the model # of your camcorder , VCR or Video Walkman  and describe in as much detail as you can; the problem(s) you are encountering.
2- I will respond to your email and provide you with a service estimate which would be parts and labor, you are responsible for shipping both way.

3- Generally speaking repairs are completed within 14 working days.
4- Payment is due upon completion of repairs via Paypal or personal check.

5- 99% of the time my repair and/or service do not exceed my initial estimate/quote.
6 - I'm not in the 'monkey business' - you can expect and will receive an honest assessment - it's as simple as that!  Read my feedback if you are at all concerned.


The  most frequently asked question I get is;  "Why would I ship my equipment to you?"  Well, the answer is rather straight-forward:  I am the only technician on Planet Earth with the experience and capability of providing you with consistently 'top-shelf' (top-notch) (first-grade) (Job-One) results in what can only be classified as an exceptionally demanding repair environment.  Modern, micro-electronic repair has a formidable reputation in that department!   Feed-backs paint an accurate picture and I would suggest mine speak loud to my Standard of Repair and Expertise.  I encourage you to review them and to my customers: I encourage you to leave one - as per normal eBay practice.

I've had lots and lots of happy customers - why?  Simple -
they receive competent and consistent and consistently competent customer-service.   I'm a strong believer in "my best customer is a happy customer."  You will share in this sentiment.

Repeat customers of mine include: Law enforcement, private investigation sector, news agencies, the motion-picture industry and a wide gamut of "post production" (houses) facilities.
I am a technician and not a hobbyist . What I do - I do as a vocation.  I'm competent in this capacity. Service offers are not that unusual on eBay .. the 'form factor' doesn't necessarily lend itself - nevertheless e-Bay does not discourage service ads - quite the contrary - they in fact encourage competent service ads - and that's exactly what this listing contains.  Top notch, second-to-none; micro-electronic repair and service.

Previously, I operated a physical store-front repair and service shop.  5 years ago I decided (elected) to rationalize operations  and embracing the modern-age I established a  virtual repair shop (facility).  Certainly helped cut 'overhead'.

As with anything nowadays; certain models are just not worth the expense of repair.
Provide me with make and model and list of symptoms and I will give you a professional (read: honest) assessment on the efficacy of repair.  A 'go' or 'no go' assessment. 
In my tenure as a technician I have repaired over 10,000 camcorders and VCRs - this within the last 20 years.  Consequently I do not necessarily need to physically examine your equipment to provide you with an estimate (accurate assessment).  Let me know the problem and I, in turn, will let you know the cost of repair.   All very straight-forward - like I stated previously; "I'm not in the monkey business". 

HERE'S A LIST OF 8MM, Hi8, digital8 and miniDV VIDEO WALKMAN STYLE UNITS I REPAIR:

Sony DHR-1000, DSR-30, DSR-V10,
EV-P2, EV-P10, EV-C3, EV-C8u, EV-C20, EV-C25, EV-C40, EV-A50, EV-C100, EV-C200, EV-PR2, EV-S350, EV-S550, EV-700U, EV-S800, EV-S900, EV-S2000, EV-S3000, EV-BS3000, EV-S5000, EV-S7000, EV-S9000, EVO-220, EVO-250, EVO-540, EVO-550H, GV-S50, GV-500, GV-A500, GV-D200, GV-D300, GV-D800, GV-D900, GV-D1000 AND OTHER SIMILAR UNITS .
I repair most Sony 8mm and Hi8 camcorders except Sony CCD-SP series, Sony CCD-F and V series and the Sony CCD-FX series with the exception of Sony CCD-FX435, CCD-FX630, CCD-FX640 and CCD-FX730V The former simply do not command spending a dime on their repair and refurbishment.  And it's going to cost more than a dime if for some strange, unknown reason, you require repair on those particular units. : )

Let me know if you need an 8mm or Hi8 player to view your tapes or would like to transfer them to DVD or PC.
Here are some of the 8mm, HI8, digital8 and miniDV camcorders I'm completely competent in repairing:-
 CCD-TR6, CCD-TR9, CCD-TR70, CCD-TR71, CCD-TR75, CCD-TR93, CCD-TR101, CCD-TR100, CCD-TR400, CCD-TR500, CCD-TR600, CCD-TR700 and many more including; ....
DCR-PC1, DCR-PC3, DCR-PC5, DCR-PC7, DCR-PC9, DCR-PC10, DCR-PC100, DCR-PC101, DCR-PC110, DCR-PC115, DCR-PC120, DCR-PC330, DCR-PC350, DCR-TRV17, DCR-TRV18, DCR-TRV19, DCR-TRV25, DCR-TRV27, DCR-TRV28, DCR-TRV30, DCR-TRV33, DCR-TRV38, DCR-TRV39, DCR-TRV50, DCR-TRV70, DCR-TRV80, DCR-TRV120, DCR-TRV130, DCR-TRV140, DCR-TRV240, DCR-TRV250, DCR-TRV260, DCR-TRV330, DCR-TRV340, DCR-TRV350, DCR-TRV360, DCR-TRV510, DCR-TRV520, DCR-TRV530, DCR-TRV720, DCR-TRV730, DCR-TRV740, DCR-TRV830, DCR-TRV840, DCR-TR900, DCR-TRV950, DCR-VX700, DCR-VX1000, DCR-VX2000, DCR-VX2100, CCD-VX3 and models PD150 and PD170.
If you do not see the model# of your camcorder in my listing please read the next three lines:-
I repair most Sony CCD-TR series, all Sony CCD-TRV series, all Sony DCR-TR, all Sony DCR-TRV, all Sony DCR-PC, all Sony DCR-HC series models and most Video Walkman© makes and models.

 please do not hesitate to check my feedback . I earn them not buy selling records, CD's or DVD's but rather by selling 8mm, HI8, digital8, miniDV and mini DVD units. Or  repairing them for my ebay customers.

Return-shipping is obviously at the customer's expense - this is all standard eBay practice but must be mentioned so there remains no doubt in this regard.  Of course the customer pays shipping .    I provide you with tracking info upon posting (mailing).  

Payment is via Paypal so you get the benefit of Paypal Buyer Protection©  It's a win-win situation .. and expect the repair to be significantly less expenisive than factory-direct repair or a high-end video shop (which normally don't engage in in-house repair anyhow).

Should you have something for repair that is not listed, don't hesitate to contact me. I may well be able to offer competenent repair.  Good fortune - hopefully we can breathe some new life into your 'closet treasures' : )

 I get units in from all around the World .. I service euro-standard video equipment so some of my customers are as far away as Europe and Russia.  Lot's of Canadian customers too.  I welcome all of you. : )  Good 2-way communication is core to my business.